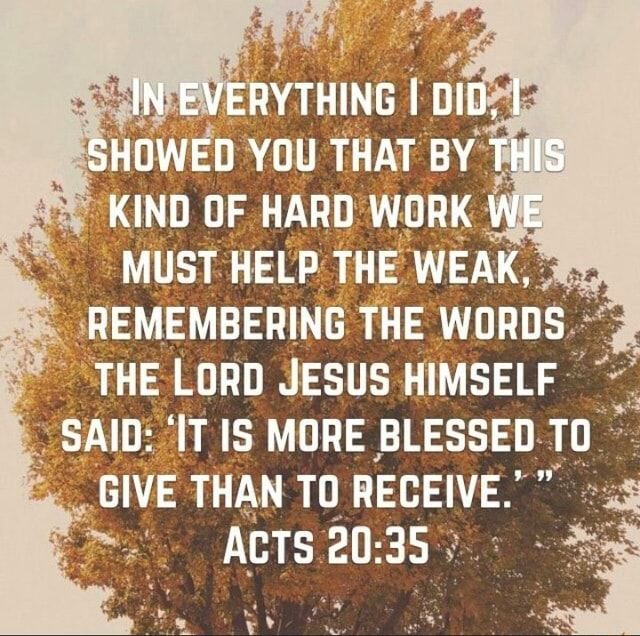 I enjoy being on the giving (blessed) end much better than being on the receiving end. That's why we're starting Sabbatical Ranch - to help others! I grew up with the idea that you take care of yourself rather than expecting others to take care of you. I suppose that may have something to do with the fact that I've always had a hard time asking for help. 

After I became a Christian I learned a valuable lesson when someone offered to help support an evangelism project I had started and I was awkwardly hesitant. They taught me that if I don't let others help, I'm denying them the opportunity to do good and share. I hadn't ever looked at it like that. I still don't like asking for help, but I realize others may want the opportunity. 

We can support ourselves by the grace of God, but to build Sabbatical Ranch into something that can support others it's going to take a really long time unless we have help. So here are some ways anyone can help if they are so moved. 
1. Pray for Us
We need wisdom and mental clarity as we continue healing from Mold Toxin Illness.
We need stamina and endurance to keep going even when we don't feel like it.
We need help and support in order to build Sabbatical Ranch into something that can make a real difference for those who need it.
2. Spread the Word
We have a relatively small circle of family and friends. We're deliberately not on social media. We haven't done any publicity, nor do we have a budget for that. We know there are thousands of people who need our help and could help us become better able to help others. We just need the word to get around. How can you help spread the word?
3. Save on Your Cell Phone Bill
Really! Get unlimited data, talk, text, and hotspot for $30/month and get $20 off your first month when you use our code. We'll also get a $20 credit off a month of service and can bank up to 12 credits at a time (you'll be able to do the same thing). There will be a box labeled "Promo/Friend code" at checkout. Just pop 3MFBMTP in there and you'll be all set.
4. Your Brilliant Idea
Maybe you've got an idea that we haven't thought of. Please do share.
5. Volunteer
Help for a day, a week, a month, or more. Whether you live local, stay local, or... We could host guests right now (Fall is the best time to visit this part of Arizona!) if they are self-sufficient like we are. Different parts of the country call it dispersed camping or primitive camping. Pack it in, pack it out! We recently had a year-long experience doing it on our sabbatical. I think the ideal scenario would be to have one or two self-sufficient individuals or couples to start with who could help with the various projects to get the ranch up and running. They could camp with us during their sabbatical if they wanted.
6. Donate
I know for some folks the easiest way to help is to donate money. We also need some very specific building and farming supplies if you'd rather go that route. We would really appreciate your help! We're rapidly approaching a crossroads where, without some significant infusions of money, I'm going to have to split my time and energy by going to work off the ranch and then giving whatever I have left to developing the ranch. I wouldn't mind except that means developing the ranch will slow to a crawl. If you'd consider donating, please contact us and I'll give you our mailing address or make other arrangements.
7. Buy Us a Mold-Free Vehicle
This would be an amazing godsend! We care more about function than looks. I think what would best fit our needs is a cargo/passenger van without carpet and no water damage (vinyl or leather seats make that more likely). We need it to seat at least three and be in good working condition. This would replace our farm truck and allow us to keep cargo dry. Another option would be a mold-free economy car so we can run most errands without getting a mold toxin hit like we do in our truck every single time we drive it. 
---
Like I said, these are some ways pretty much anyone can help if they are so moved. If you have any other ideas or suggestions, please let us know!